California Mid-State Fair July 18-29, 2018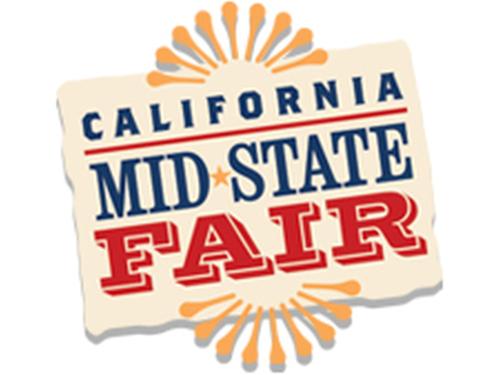 The Fair opened in 1946 and was first known as the San Luis Obispo County Fair.
The California Mid-State Fair has held annually, in Paso Robles, and runs for 12 days at the end of July. The Fair has hosted some of the biggest names in the music industry. Artists such as Aerosmith, Tom Petty, Journey, John Mayer, Rod Stewart, Fergie, Justin Bieber, Jason Aldean, Toby Keith, Kenny Chesney, Keith Urban and Christina Aguilera have all performed on the Chumash Grandstand stage.
Please visit >www.midstatefair.com for more information!
Cambria Christmas Market Dates TBD for November and December 2018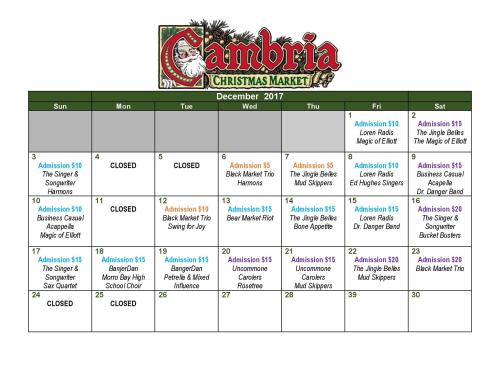 As the sun goes down and night falls, Christmas lights turn on to illuminate a scene of merriment and joy up at the Cambria Pines Lodge. This is an absolute must do during your stay in Cambria and is sure to be a highlight for all ages.
The path is lit up with thousands of lights, creating a truly magical and breathtaking place. Locals and visitors walk around with cups of mulled wine, scoping out the goods at each of the wood cabins, that dot the lit up paths. Christmas wreaths, ornaments, artist's photographs, and delectable treats are all on offer. Children will be excited to see Santa Claus and find out if they made the nice list. Aromas fill the air from genuine bratwurst sizzling on the grill, an ode to Germany and Austria, the inspiration for the Christkindlmarkts.
Please visit >www.cambriachristmasmarket.com for more information!
Cambria Scarecrow Festival October 2018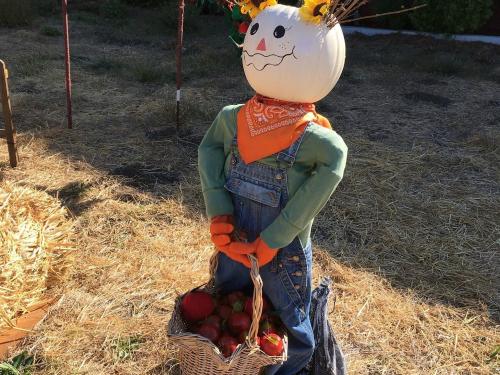 Now in its ninth year, the Cambria Scarecrow Festival has grown into a community-wide event with hundreds of scarecrows bowling, bathing, painting, pedaling, fishing and flying through Cambria, San Simeon, and Harmony. Over the years, the festival has grown into unique festivals of hand-crafted folk art in the U.S., drawing thousands of visitors from across the country. And 2017 will be no exception! In fact, we are pretty sure it is going to be the best one yet!
Please visit >https://cambriascarecrows.com/events/ for more information!